Update August 30, 2023
I changed the "Production Blog" to News on the website.
We've been uploading new video Production Blogs to YouTube on the https://youtube.com/@omegaronin channel
"Beneath the Lava Laves (Regeneration Mix)" is the background music for the upcoming Classic Game Room 2085 Blu-Ray set.
Mark is going to release Iron Metropolis on CD for the holiday season for those who want a signed copy of the album in future-proof physical media. It is possible that Sky Warp and Touch the Mainframe may also see a CD release this year (in a combo pack).
New songs are in production for an upcoming album later this fall.
Loads of new t-shirt designs featuring artwork and imagery inspired by Omega Ronin are going up on Amazon under the Omega Ronin brand. Grab a cozy synthwave sweatshirt for the winter!
August 17, 2023
Yesterday we released our biggest and boldest album across all streaming services called Iron Metropolis. Check it out!
Additionally, the entire Omega Ronin catalog is now available on the popular Bandcamp service to own. No more streaming hiccups or crappy ads, just download all of Omega Ronin and dig it whenever you are in space and time.
Download the complete Omega Ronin discography at Iron Metropolis | Omega Ronin (bandcamp.com)
New glassware and t-shirt designs are being added to the website, and we're looking at physical CD and/or cassette releases too. No word on that yet though...
Mark is starting to tinker with sounds for the next album. "Now that Omega Ronin is the soundtrack for a barrage of [Classic Game Room] videos and shorts and clips there's a sense of excitement knowing that millions of people out there will be hearing it, whether they know it or not. That's the best any indie producer can hope for I think. So I'm taking my time and crafting new analog bass sounds and working on sequences to make upcoming songs that rock for videos and home stereo listening."
The Omega Ronin YouTube channel is slowly building up to be something interesting. You can subscribe to it Omega Ronin Music - YouTube
"I'm still looking at how I can use the brand and imagery behind it to make a print series. It'll probably start with video in some form, since the Omega Ronin songs are the perfect foundation for short animated clips and whatnot. Omega Ronin has a greenlight all the way through 2024 from the parent company, CGR Publishing. Since I'm the owner of CGR Publishing I can tell you that's no small thing. When I see something working well that I also enjoy making, I'll stick with it."
Omega Ronin will be creating all of the original music for Classic Game Room 2085 Season 2, a 12-hour production scheduled to be released in 2024 on Blu-Ray and other digital download services to celebrate the series' 25th anniversary.
"In short, I'm planning to return to filmmaking full-time in 2024 with the second season of CGR 2085 and the related internet show. From the producing standpoint, the ability to pull from a catalog of great music that I own, that I collect the earnings on, that I can adjust at any time, which isn't being screwed by another publisher, is solid gold."
Update August 7, 2023
Hey there! I'm running behind on updates (as you can tell!) Omega Ronin is about to release a double-disc sized album in the coming month. More on that soon....
The Omega Ronin synthwave music and video project is moving full-speed ahead with new music, videos, and online presence. I've had to stop and start things a few times as I adapted my plan to changes as they happen, but the new album is awesome and its inclusion in Classic Game Room videos as the background music is very cool. I frequently build videos by editing over the music, and in that respect, Omega Ronin has found a good home. It sounds good, and it matches the feel of what I'm trying to produce.
My hope is the show more of the music-making process in some upcoming making-of videos. You can follow Omega Ronin on YouTube where I've been slowly uploading some behind the scenes stuff. Everything is moving pretty slowly at the moment, but it's moving. YouTube.com/@omegaroninmusic
More on the new album, possible CDs, merch, and more soon.
January 14, 2023
Behind the Facade drops today! Go and check out the newest Omega Ronin EP with three new tracks from the future.
Additionally, I'm putting together a new video section to organize the growing catalog of "Enter the World of Omega Ronin" videos.
I'm putting the widescreen cuts of the 1-minute video segments on the website. You can also watch them in a vertical format on TikTok (@OmegaRonin)
I've been building a virtual world / virtual set in which to film Omega Ronin production videos and virtual concert footage. It has taken a few tries to get right, but I think the third city design is coming along. You can also see it in 80s Comics videos, also on TikTok (@80sComics) and 80sComics.com
I've been teaching myself 3D modeling and animation over the past few weeks, which is super fun. It's a great way to direct videos with a larger production value and endless imagination on a budget. I'm hoping to turn Omega Ronin into a full-fledged animation series and comic book, we'll see what happens! If nothing else, you can enjoy confused robots dancing to synthwave.
Enter the World of Omega Ronin #4
Update: January 9, 2023
So I wasn't going to let the cat out of the bag for a few more weeks, but the recent animations clips have been coming along so smoothly that I'll come out and say it.
Omega Ronin: The Synthwave Anime is in production.
That's a working title, but basically, imagine a musical journey through a robotic dystopian future world in the year 2282. I'm still learning the tools, in fact, I'm barely off first base, but shit is looking great already! A month and a half ago I had no idea how to do any of this. I haven't even figured out how to skin the robots yet, but the default Unreal bot looks the part.
Edit-Station 1 will be in it.
This is where I wanted to be with Omega Ronin. The video is driving the music and the music is driving the video. I'm building a virtual world and having a lot of fun, hopefully you'll check out the TikTok series with updates @OmegaRonin. I'm mixing in some of the musical instruments in the rough cuts and experimental footage.
I'm short on details otherwise. I'm leaning towards physical media like Blu-Ray and digital download these days so that viewers can get the best experience. Probably late 2023 for a finished product, but the working footage is coming out constantly here and on TikTok.
Update: January 5, 2023
Happy New Year from Omega Ronin! Hey, we merged the "news" and "Production Blog" into one page because they ended up being the same thing. The exciting news around here IS the production blog!
Omega Ronin released Sky Warp on December 30. We hope you dig it. The next album is a 3-song EP titled "Behind the Facade" which drops on January 14. It features the song Behind the Facade which is the first song to come out of the video editing suite based on a video, you can actually hear a rough cut of it in one of the TikTok clips.
In 2023, Omega Ronin is expanding beyond music into the world of multimedia print and video combined with music. Omega Ronin is published by CGR Publishing, which is primarily a print publishing company, so we already have a book series lined up and ready to release. Omega Ronin creator, Mark Bussler, is wrapping up the first issue of Omega Ronin: The Manga, which is slated for a Kindle release in January 2023. The collected works of the series will see a deluxe hardcover print release by end of year.
According to Bussler "I'm starting with a digital release on Kindle because early on in a series this stuff is always evolving, and digital gives me a chance to go back and refine things before it hits print. It's also affordable, so it's a good way to get introduce people into the world of Omega Ronin."
An art and manga section will be added to the website soon.
Omega Ronin is on TikTok! No, it's not goofy dance videos or influencer jibberish, we're dropping synthwave, animation, music production, and art videos. You can also see them here if you too are confused with TikTok.
Follow @OmegaRonin on TikTok
The video series is based in the 3D world that Bussler is creating for the Omega Ronin print manga, which is then used to inspire cinematic scores which are turned into Omega Ronin synthwave music. More about the videos in an upcoming post. Enjoy!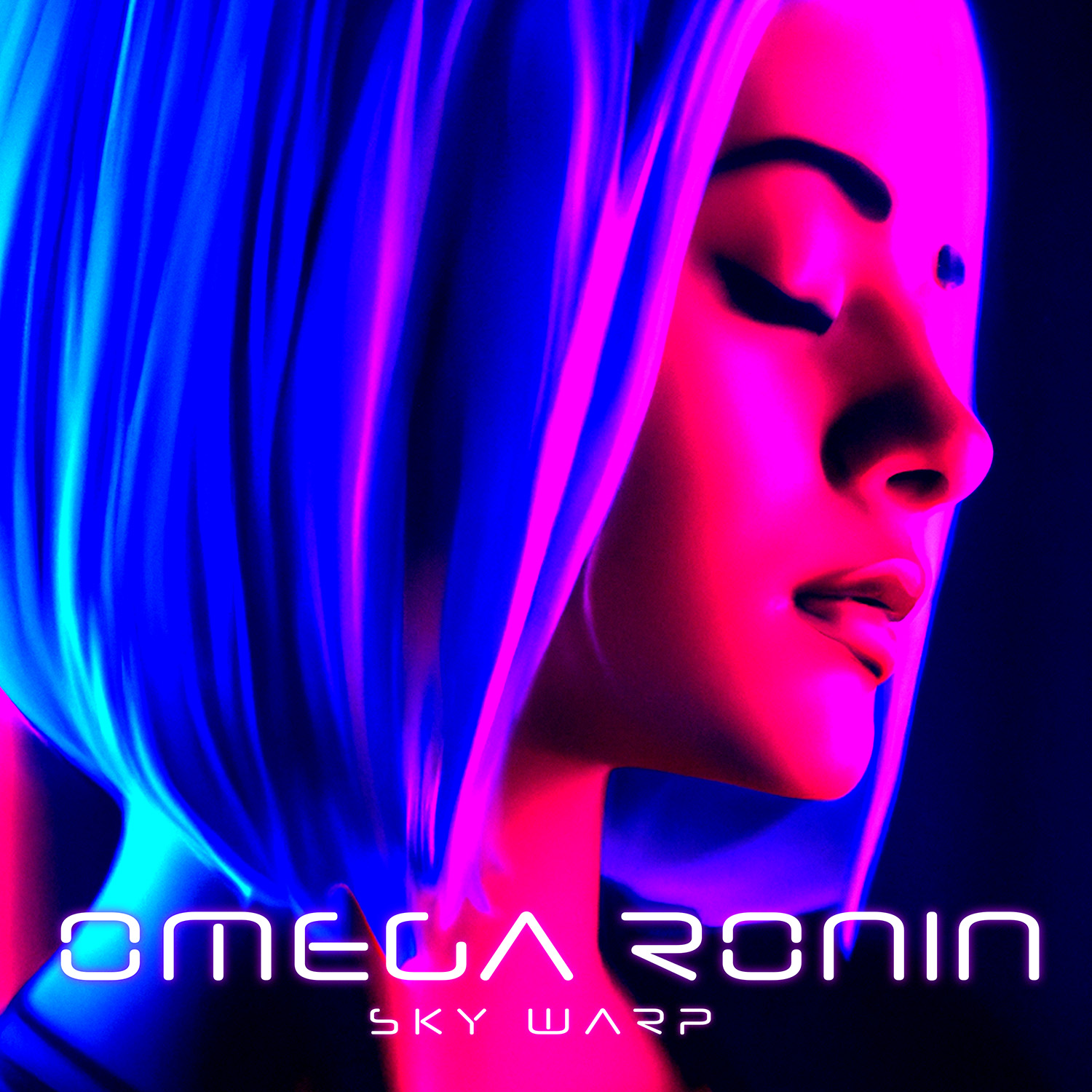 Update December 16: I just wrapped up final mixing on the next full-length Omega Ronin album called Sky Warp.
Inspired by the upcoming manga project, Sky Warp is an interesting album compared to the earlier Omega Ronin releases. There's some familiar smooth, bouncy songs on there like Love Beyond the Future and Smooth Solar Sailing.
But, there are also some very ambitious, deeper tracks like Digital Confluence and Sky Warp.
Keep an ear out for some new keyboards in the mix. All kinds of fun surprises coming your way this year.
The manga project is coming along nicely. I had to take this week off drawing to focus on holiday sales (yes, I still have a real job) and mixing two albums (Turbo Volcano on deck for December 31.) I'm probably the only person on earth making industrial and synthwave music while also assembling an eight-volume set on 19th century locomotive engineering....
I have a new computer inbound to assist with the ambitious 3D graphics and video project to accompany the upcoming manga / music too. It may take a few more weeks for graphics and updated videos to hit the production blog, but this shit is real. 1983 is going to be way rad.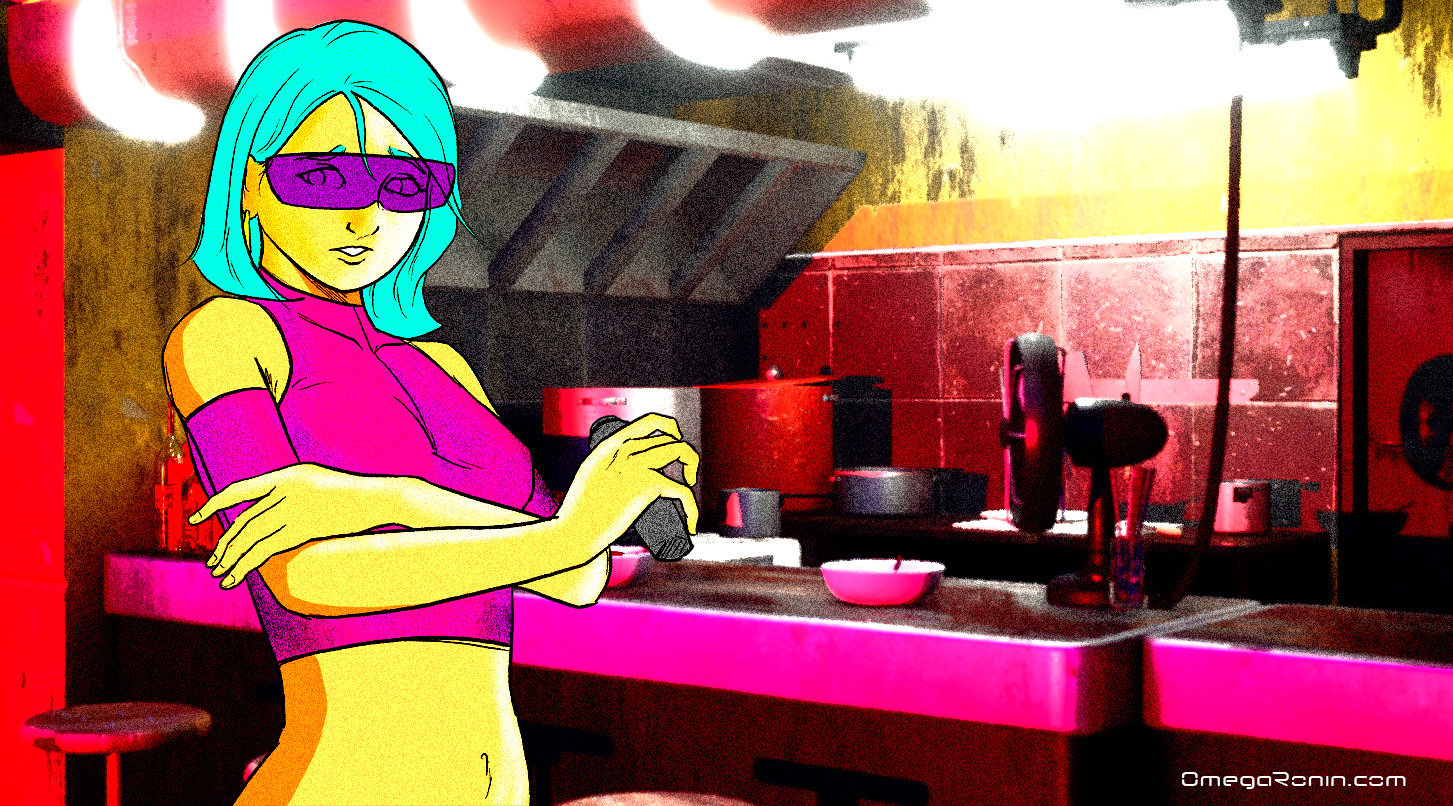 Pictured above: brush and 3D fx test with Maya from Omega Ronin: The Manga. Pens and sprays from Procreate. FX from Photoshop.